Benefits for Business Users, IT, Developers
ActiveReports Server is a 100% Web-based, rich, ad hoc reporting solution, enabling business users to easily create interactive reports.
Its browser-based ad hoc report designer, and secure, scalable storage, support multi-tenant reporting, and include a SDK for accelerating self-service BI much more effectively than traditional reporting tools.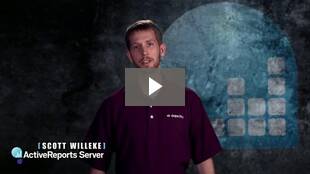 For Business Users
Intuitively create sophisticated, interactive ad hoc reports while eliminating complexities.
Now you can quickly develop professional-looking, interactive ad hoc reports for the Web using only your Web browser, with no need to worry about the technical details. Plus, with ActiveReports Server's built-in support for mobile devices, the information is always available.
Learn More About Benefits for Business Users
For IT
Deploy web-based self-service reporting rapidly and with fewer resources.
The Web-based ActiveReports Server platform gets you up and running in just a few minutes, enabling you to easily empower your users with self-service reporting.
For Developers
Ship web-based end user reporting capabilities, with no hidden fees.
Use Web services and ASP.NET components to ship feature-rich end user reporting—and with server-based licensing and no per-user fees, it's a cost-effective approach, as well.