Features for Business Users, IT, Developers
ActiveReports Server is a 100% Web-based, rich, ad hoc reporting solution, enabling business users to easily create interactive reports.
Its browser-based ad hoc report designer, and secure, scalable storage, support multi-tenant reporting, and include a SDK for accelerating self-service BI much more effectively than traditional reporting tools.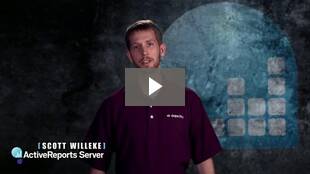 For Business Users
ActiveReports Server makes it easy to create sophisticated, interactive ad hoc reports without knowing any technical details.
Rich, drag-and-drop report designer with an intuitive user interface makes ad hoc reporting a snap.
Interactive, ad hoc reports with drill down, print and export options are available right in your web browser.
Flexible design options for tables, text, charts, images, and themes help you create great-looking reports.
Familiar business views of your data eliminate the need to know SQL or any technical details.
Built-in scheduling and delivery options make it easy to deliver your reports on time to multiple stakeholders.
Learn More About Features for Business Users
For IT
100% Web-based reporting with multi-tenant support, simplifies management, delivering faster returns on your investment.
Web-based platform eliminates the need to install software on desktops.
Support for multi-tenant self-service reporting in SaaS offerings.
Auto-generation of familiar business views of data saves training time.
Self-service reporting frees up IT staff for other priorities.
Central role-based security makes assigning permissions fast and easy.
LDAP support enables single sign-on for Active Directory users.
For Developers
ActiveReports Server lets you easily add out-of-the-box Web-based end user reporting, with no per-user fees.
Support for storage, rendering, and distribution of ActiveReports developer RPX report files.
Server-based perpetual licensing for cost-effective deployment to large numbers of users.
Web services and ASP.NET components for easy programmatic integration.
Support for multi-tenant reporting in SaaS offerings.
Ability to re-brand the report designer with customized colors, captions, etc.